The OFSystem is a tool to measure the deformations of an object of any shape and of rigid/semi-rigid kind.
OFSystem, thanks to the particular configuration of the sensors and the specific data analysis software, is able to measure deformations in space and in plan, providing information on compression, elongation, deformation, load, torque, pressure, displacement, vibration, corrosion, inclination and temperature, of the object under examination. The system uses:
Fiber optic cables of reduced dimensions (250micron/6mm);

Passive sensors created within the optical fiber;

Technology that does not suffer and does not produce electromagnetic interference;
Signal transmission over long distances (100 km) with no significant power losses.
The fibers, the sensors, the materials


FBG – Fiber Bragg Grating – fiber optic Bragg gratings

The grating is "written" in the fiber core with an ultraviolet laser. The grating is the sensor itself. Grating dimensions: 0.5-2 cm.
A peculiar characteristic of the FBG technology is that on a single optical cable can be wired in series, for the measurement of various parameters, using different sensors such as strain gauges, accelerometers and temperature sensors. The acquisition is performed with just one interrogation system.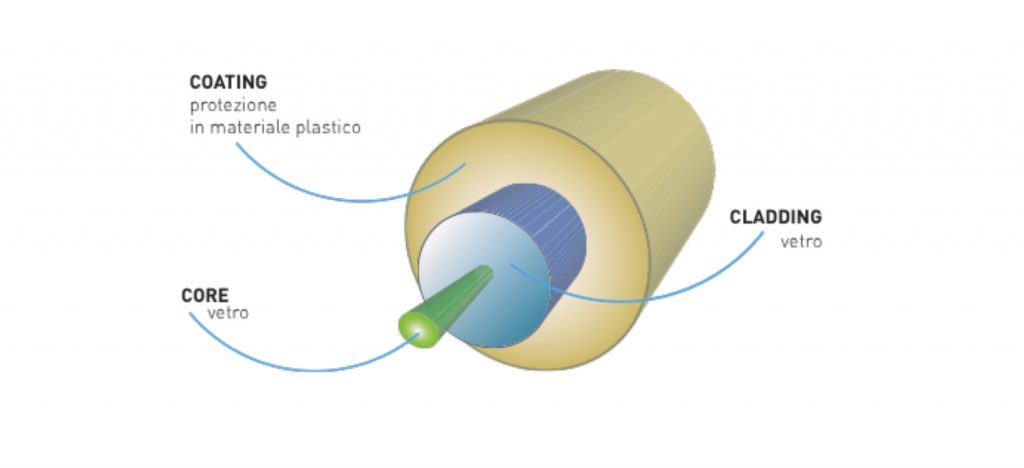 DIAMETER
core 5-9µm
CLADDING
125µm Coating: 170-250 µm
COMARISON
WITH HUMAN HAIR
approximately 90µm
system characteristics
Possibility of placing the data collecting instrument, at a long distance (km) from the monitoring area, without reducing the measurement accuracy;

Up to 100 sensors can be installed, in series, on the same fiber;

Significant reduction of the wiring amount required to monitor a structure.
sensor characteristics
High sensitivity;

Small size and possibility of being fitted in composite materials;

Sensors are passive. They do not produce and are not affected by electric and magnetic fields.